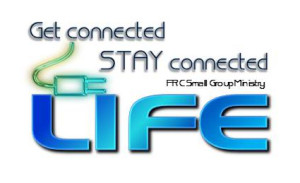 At FRC, we believe it's important for Christians to get connected to others in the Body of Christ – to have friends who can draw alongside them and encourage them through the difficult times – accountability partners who can give them a nudge or challenge them if they begin to slip sometimes – and family who can embrace and love on 'em alot ALL the time!
We have many small groups at FRC, and we call them LIFE GROUPS. Find the one or two that meet your needs and jump right in!
1st Friday
of the month is the group for Men. A great time of fellowship and encouragement, and food is ALWAYS included. lol  Location varies, so contact Billy at 706-202-8780 for info!
On the
3rd Friday of each month,
our group for WOMEN meets. Again – location varies, so contact Sharon at 770-500-2087 for up-to-date info!
The 5th SUNDAY
is For Couples Only. We try to mix it up a bit, so contact Tanya at 228-297-0657 during the month that has 5 Sundays, and you can come join us! Childcare is provided upon request.